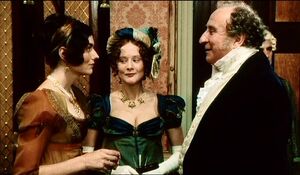 Sir William Lucas is a character in Pride and Prejudice. He is a knight, and is married to Lady Lucas. They have several children, including Charlotte Lucas Collins and Maria Lucas. Their eldest son is the heir to Lucas Lodge, the family home.
Biography
Edit
Early life
Edit
Sir William made a modest fortune in trade while living in Meryton. He became a knight due to his mayoralty. Because of this, he became disgusted with his business and trade in general, as well as disgust toward Meryton, a small market town. They moved a mile away to Lucas Lodge[1]. His fortune is not large enough to settle any sort of dowry of note on his daughters, which leaves Charlotte to quite a disadvantage due to her lack of beauty. While none of the Bennet sisters have any dowry of note, they can make do because of their alleged beauty. He is idle.
In the novel
Edit
Sir William seemed to want to push Mr. Darcy and Elizabeth Bennet together, by commenting on the prowess in dancing exhibited by both persons a number of times. Sir William was the first to call on Charles Bingley at Netherfield Park, and invited him to the public ball in Meryton.
He, like his wife, is glad to learn of Charlotte's final engagement to William Collins.
Personality and traits
Edit
Sir William's age is not known he is married to Lady Lucas and have three to five children. He is inoffensive, friendly, and obliging by nature. And courteous due to his presentation at St. James's[1].
Further information
Edit
His son is mentioned following the Meryton Assembly at the beginning of the book. He is apparently fond of wine and foxhounds though nothing else is known about him.
Because Sir William is a knight his wife is addressed as Lady Lucas, she would only be Lady (First name) Lucas if her father had been an earl, marquess, or duke, which is not the case.
Notes and references
Edit