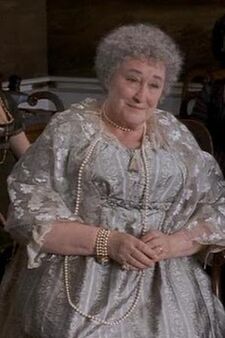 Mrs. Jennings is a character in Sense and Sensibility. She has two daughters, Lady Middleton and Mrs. Palmer. Through her children, she has two sons in-law, Sir John Middleton and Mr. Palmer. Both of her daughters married exceedingly well, and their husbands are wealthy gentlemen.[1]
Mrs. Jennings was a bit of a meddler and took an active interest in the romantic lives of young people, especially Elinor and Marianne, much to their particular chagrin.
Biography
[
]
Marriage and motherhood
[
]
Mrs. Jennings's maiden name is unknown but she did marry a Mr. Jennings, and he died of an unnamed illness.[2] She was widowed, but married off all her children. She received a large jointure after her husband's death, thus she is independently wealthy and does not need to rely on her sons in-law for shelter. [3] She spends much of her time visiting her daughters and their families, namely the Middletons. As she lived to see the marriages of both her daughters, she turns her matchmaking attentions to other young men and women who are unattached.
Matchmaking
[
]
She immediately pronounced that her acquaintance, Colonel Brandon, was very much in love with Marianne Dashwood and predicted a wedding between the two persons.[3]
Traits and characteristics
[
]
"—she was always anxious to get a good husband for every pretty girl."
—Description of Mrs. Jennings's matchmaking.
Mrs. Jennings is a good-humoured, merry, fat, elderly woman. She is happy and talkative and slightly vulgar[1].
Mrs. Jennings and Sir John love meddling in the affairs of young people and speaking loudly about attraction when they see it, which embarrasses Elinor and Marianne.
Notes and references
[
]