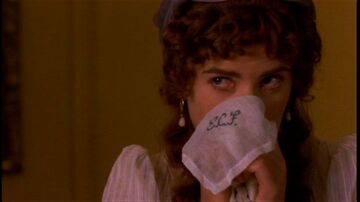 Lucy Ferrars (née Steele) is a character in Sense and Sensibility. She is married to Robert Ferrars, but was engaged to Edward Ferrars for quite a long time. She is the younger sister of Anne Steele, and sister-in-law to Edward Ferrars and Fanny Dashwood.
Biography
Edit
Early Life
Edit
Lucy and Edward entered into a secret betrothal when they were quite young. Lucy still was attracted to his money and position several years after that.
Stay at Barton
Edit
Lucy and her elder sister Anne were guests of Sir John Middleton at Barton Park. Sir John was quite excited to introduce the Dashwoods to the Steeles, proclaiming them the sweetest girls in existence[1]. Anne and Lucy played the part of excellent guests, endearing themselves to the cold and aloof Lady Middleton by heaping praises on her children[1]. They were cousins, but Lady Middleton soon saw all their tricks. Later, when talking with the Miss Dashwoods, the Miss Steeles heaped praises on Lady Middleton, which Marianne Dashwood Brandon disagreed with wholeheartedly.
Personality and traits
Edit
Although Lucy is pretty and outwardly sweet, she's no Dashwood; compared to genuinely good-hearted Elinor Dashwood Ferrars and Marianne Dashwood Brandon, Lucy comes off as cold, sneaky, and more than a little mean in comparison. Her treachery is made all the worse by the fact that she looks so nice and kind on the outside – so much so that she basically tricks all the other characters into liking her. Her deeds, however, are pretty despicable. Through the course of the novel, she manages to break poor Elinor's heart, plague Edward's life for a number of years, then dump him for his own brother in the pursuit of financial fortune and social standing.
Notes and references
Edit
Community content is available under
CC-BY-SA
unless otherwise noted.