John Willoughby is a main character in Jane Austen's novel Sense and Sensibility.
Character
Edit
Willoughby is the dashing and handsome romantic interest of Marianne Dashwood.
He is the master of Combe Magna and heir to his aunt Mrs. Smith's estate and fortune. Prior to his introduction to the story, he seduces Colonel Brandon's ward Eliza Williams, who falls pregnant with his child. He then abandons her.
During his yearly visit to his aunt, he meets Marianne Dashwood when she is caught out in a storm. The two begin a flirtation that turns serious perhaps too quickly, inciting the concern of Marianne's sister Elinor. They bond over their shared taste in art and entertainment as well as their emotional sensibility.
Soon, however, news reaches Mrs. Smith of Willoughby's behavior with Eliza and her child. She demands that Willoughby marries Eliza, but he returns to London instead. He is subsequently disinherited by his aunt.
In order to resume his previous lifestyle, Willoughby marries Miss Grey and her £50,000. Marianne is stricken when she learns of their engagement in London and after she makes a scene, Willoughby promises to call on her tomorrow. He does not. Instead he sends a note and returns the letters she sent him, unanswered, apologizing for his behavior, saying because he accidentally raised her hopes.
Later, Willoughby is pained when he learns of Marianne's marriage to Colonel Brandon, and he thereafter continues to consider her the standard of perfection in a woman, slighting many other rising beauties by saying they are nothing to Mrs. Brandon.
Mrs. Smith eventually forgives her nephew and makes him her heir again. Willoughby is further dismayed because he now knows he could have had Marianne and a fortune.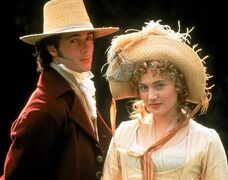 Yet in spite of this, he continues to live to enjoy himself. His wife and house are not always unpleasant, and in sport and animal breeding he finds something like domestic felicity.
Community content is available under
CC-BY-SA
unless otherwise noted.